My piece for Reveal Magazine. May 2013.
We have had a Hollyoaks star, a MOBO nominee and a chart-topper audition already, but is it OK for people who've already had a taste of fame to try out for talent TV shows likeThe Voice?
NO says Amy Voce, 30, Gem 106 breakfast presenter

Everyone, at some point, has wanted to be a pop star. I spent several painful years wearing platform trainers, thanks to my Spice Girl obsession, and asking friends to address me as 'Trixie Firecracker'.
I know that you should never give up on your dream (thankfully, Trixie was just a temporary glitch for me) but it seems totally unfair that someone like Nate James, for instance, should get another go.
He's already released an album, had two MOBO nominations and worked with stars like Aretha Franklin and Chaka Khan. In terms of confidence, stage presence and experience, he's already way ahead of any contestant plucked from stacking shelves in the supermarket.
Sean from 5ive
 is another prime example… I've paid to see him during one of their arena tours in the past, which just proves that he's already lived the pop star dream. He may be hankering for more, but he shouldn't be allowed to do it in place of new faces who might have missed out on a chance because of him.
Seeing a guy whom I once had a poster of on my wall still desperately clutching at the trappings of fame seems a tad depressing. It spoils the glamour of pop stardom in my eyes.
The music industry is notoriously difficult to crack and over-saturated with so many similar acts, so I think
The Voice should be a chance for brand new talent to have a shot.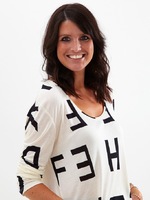 YES says Naomi Kent, 29, Radio Aire breakfast presenter 
I'm obsessed with Google-searching 'where are they now?'. I always want to know what people who've had a brush with fame are up to. And, looking at how popular ITV2's show
The Big Reunion has been recently, I'm clearly not the only one.
Blue are back in the album chart and even PJ & Duncan smashed a No1 single with their old classic Let's Get Ready To Rhumble. It all just goes to show that we are loving a bit of nostalgia right now.
So I'm all for former stars appearing on shows like
The Voice. Watching 
90s pop heart-throb Kavana
 ironically singing Crowded House's 'Don't Dream It's Over' in week one, then waiting as nobody swivelled their chair for him, was seriously cringeworthy… and compelling.
The whole point of
The Voice is that it's about singing ability and nothing else – not your looks, not your past – it's called The Voice for a reason.
Yes, Nate James may have been nominated for a music award, yes, Alice Barlow may have been on
Hollyoaks and yes, Cleo Higgins may have been 'comin' atcha' in her band Cleopatra. But I think it's fair game for anyone with a decent voice to have a go –that's the whole point of the show!
It might sound bad, but the best bit of
The Voice is waiting to see if the mentors will turn around – especially 
Jessie J
 and that hovering hand of hers – so when the performer is already recognisable, we take even more of a sick pleasure in the will-they-won't-they element.